Increasing Hospitalizations and Variant Concerns Prompt Heightened Safety Measures
By Dolores Quintana
Los Angeles County is currently grappling with a sixth consecutive week of rising COVID-19 transmission rates. Health officials emphasize simple yet effective measures to enhance protection against the virus. These measures include opting for outdoor events when feasible, ensuring adequate ventilation indoors by opening windows, and encouraging individuals to undergo testing before congregating.
According to the Los Angeles Times, there were 128 outbreaks being investigated as of August 28, and as of September 4, 168 outbreaks are being investigated. Currently, there are outbreaks at United Talent Agency, Sony Pictures at Television City, National Car Rental/Enterprise Rent-A-Car LAX, City of LA City Attorney's Office, Floor 5, and ABM Parking Garage.
The Los Angeles County Department of Public Health also recommends testing for individuals who have been exposed to COVID-19 or who exhibit potential symptoms, such as coughing, fever, headaches, or unusual fatigue. To access free COVID-19 testing within Los Angeles County, residents can visit http://publichealth.lacounty.gov/covidtests.
Presently, mask-wearing is a matter of personal preference, except in situations where it is mandated during outbreaks or at specific sites. Individuals at a higher risk of severe illness are advised to consider wearing high-quality, well-fitting masks in crowded or inadequately ventilated indoor spaces. For all individuals, the use of masks is strongly recommended on public transit and in healthcare settings.
Additionally, individuals exposed to COVID-19 should continue masking around others for ten days, and those recovering from COVID-19 should wear masks from day 6 to day 10 after isolation.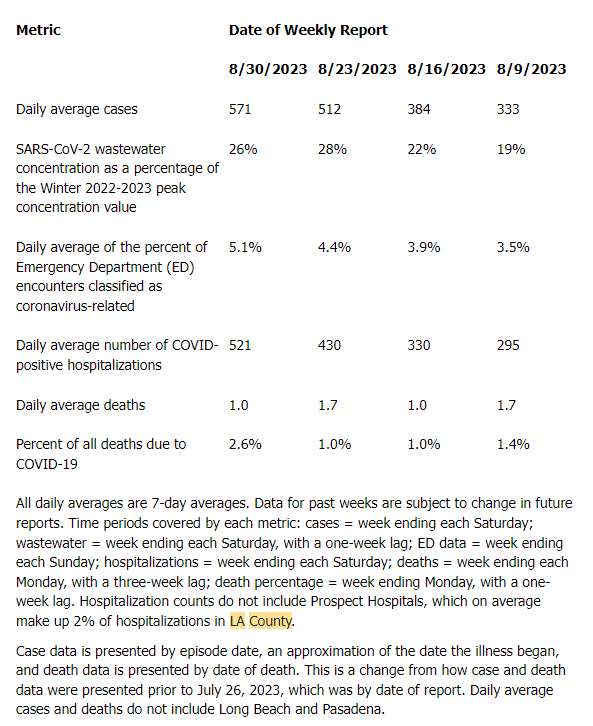 Los Angeles County is currently reporting an average of 521 daily COVID-positive hospitalizations, representing a 20 percent increase from the previous week and a twofold increase from four weeks ago. This week, COVID-19-related emergency department visits account for 5.1 percent of total visits, up from 3.2 percent on August 2.
Historically, new variants and sub-variants have contributed to increased transmission. Therefore, Los Angeles County conducts regular sequencing of local COVID-19 specimens to monitor circulating strains and prepare for potential impacts on COVID-19 dynamics.
According to the latest local sequencing data for the two-week period ending August 5, the predominant strain in Los Angeles County was EG.5, constituting 22 percent of sequenced specimens. This marks the first time a strain has accounted for over 20 percent of sequenced specimens since early July. The second most prevalent strain is XBB.1.5, making up nearly 14 percent of sequenced specimens.
While the sequencing of positive specimens requires time, the U.S. Centers for Disease Control and Prevention (CDC) utilizes modeling to estimate the proportion of circulating strains. As of September 1, EG.5 is estimated to remain dominant, accounting for 29 percent of current cases in the U.S. region encompassing California and neighboring states.
Individuals who contract COVID-19 are urged to consult their healthcare providers for potential treatments like Paxlovid as soon as symptoms appear. Treatment must commence within five days of symptom onset. To access free telehealth services for treatment inquiries, individuals can contact the Public Health Call Center at 1-833-540-0473, available seven days a week from 8 a.m. to 8:30 p.m.
Los Angeles County's status in the CDC's Low Hospital Admission Level category is based on 6.3 weekly COVID-19 hospital admissions per 100,000 people, reported on August 28 for the seven-day period ending August 19. This figure reflects an increase from 5.2 hospital admissions reported the previous week.